Dhirubhai Ambani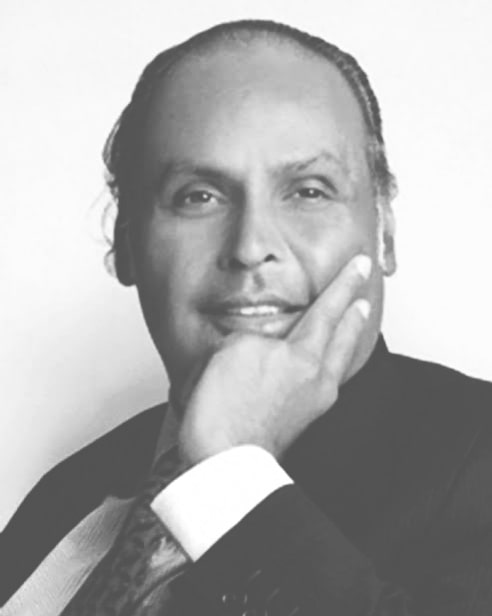 Dhirajlal Hirachand Ambani popularly known as Dhirubhai Ambani was an Indian business tycoon who founded Reliance Industries. He did his schooling at Bahadur Khanji school. At the age of 16, he went to Yemen and started working as a Petrol Pump Attendant. Later he worked as a clerk at 'A. Besse & Co' which in the 1950s was the largest transcontinental trading firm east of Suez. There he learned trading, accounting, and other business skills. In 1958, he left Yemen to try his hand at his own business in India in the textiles market.
He started working with 'Champaklal Damani' his second cousin who lived with him in Yemen. At that time, he stayed with his family in a two-bedroom apartment at the Jai Hind Estate in Bhuleshwar, Mumbai. In 1965, Dhirubhai Ambani and Champaklal Damani ended their partnership. It is said that both had different temperaments and takes on conducting business. In 1966, Ambani formed Reliance Commercial Corporation which later became Reliance Industries.
The first office of the Reliance Commercial Corporation was set up at Narsinatha Street in Masjid Bunder. It was a 350 sq ft room with a telephone, one table and three chairs. Later he launched the brand 'Vimal' during this time which sold polyester materials for saris, shawls, suits, and dresses. Vimal was the first to use international cricketers in their commercials. Vivian Richards and Allan Border appeared in Vimal TVCs. In an interview, he said that it was a difficult task to build Vimal as their strong competitor was "Raymond".
He has been featured on the cover page of various top business magazines. He has inspired many youngsters. Reliance was the first Indian company to sponsor a big-ticket international sports event when they sponsored the ICC One day World Cup – the Reliance Cup.
On 24 June 2002, Ambani was admitted to the Breach Candy Hospital in Mumbai after he suffered a major stroke. He was in a coma for more than a week and a number of doctors were consulted. Ambani died on 6 July 2002. The former Prime Minister of India "Atal Bihari Vajpayee" gave the tribute by saying that "The country has lost iconic proof of what an ordinary Indian fired by the spirit of enterprise and driven by determination can achieve in his own lifetime". Later the group was split into 'Reliance Industries Limited' headed by 'Mukesh Ambani' and 'Reliance Anil Dhirubhai Ambani Group' headed by 'Anil Ambani'.
Ambani's Control Over Stock Exchange
India's biggest private sector company Reliance Industries Ltd went public through its initial public offering (IPO) in October 1977, when it issued 2.8 million equity shares of Rs 10 each. Thereafter the company frequently raised money through convertible debentures. After the IPO, the share price of Reliance kept climbing. In the first year of listing. Reliance had reached a high of Rs 50, five times the par value of the share, which was a high premium at those times. In 1980, the share hit Rs 104 and in 1982 it reached a high of Rs 186.
A cartel of bear operators started short-selling shares of Reliance. The bears sold 3,50,000 Reliance shares, causing the price to fall quickly from Rs 131 to Rs 121. But then something strange happened a "Buying Wave Began". The more the bears sold the numbers got to 1.1 million shares the more NRI investors based in West Asian countries picked up. Eventually, they bought more than 800,000 shares sold by the bears. Everyone was shocked that who is buying Reliance shares. It was rumored that the major supplier of share certificates to the market during that period was none other than the "Dhirubhai Ambani". This was the master move which shows his ability to take things into his own hands and rescue the company from a difficult situation before it goes out of hand.
Achievement and Awards
He was named in the list of 50 most powerful people in Asia by "Asiaweek Magazine".
He was awarded the "Dean's Medal" by The Wharton School, University of Pennsylvania, for setting an outstanding example of leadership.
Dhirubhai Ambani is the first Indian to receive the Dean's Medal.
He was honored with the 'Man of the Century Award' by Chemtech Foundation and Chemical Engineering World in recognition of his outstanding contribution to the growth and development of the chemical industry in India.
He was awarded the 'The Economic Times Award' for Corporate Excellence.
Dhirubhai Ambani was named the "Man of the 20th Century" by the Federation of Indian Chambers of Commerce and Industry.
On 28 December 2002, India post released a postal stamp featuring 'Dhirubhai Ambani'.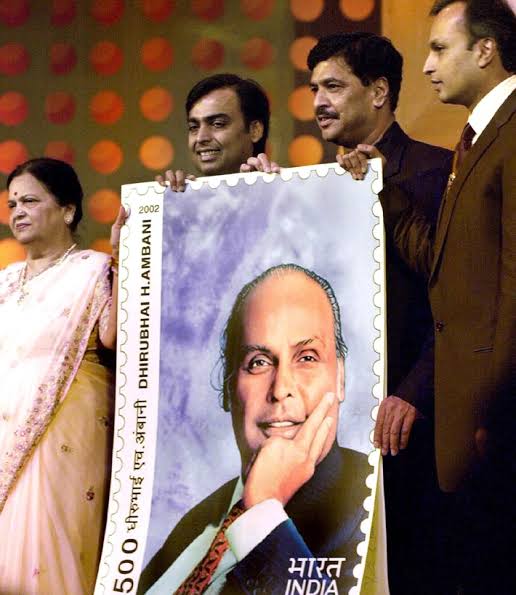 In 2012, Reliance Industries was one of the two Indian companies to be ranked among the top 100 in the Fortune 500 list of the world's largest companies by revenue.
In 2016, he was honored posthumously with the Padma Vibhushan, India's second-highest civilian honor for his contributions to trade and industry.